FINALLY, Say Yes To Success
About Us
With more than 500 locations, Weichert is one of the largest independently owned providers of real estate services in the country and is a recognized leader in the industry. We support our team members with the best resources and award-winning training.
Our Culture

Our founder, Jim Weichert, began his career as a Sales Associate. His approach was personal; he sold houses by focusing on people. This friendly, welcoming attitude helped Jim succeed with customers, but it also led him to develop the philosophy that informs all of our business to this day: namely, that people buy people before they buy products and services.
Employing that philosophy enabled Jim to create the team of helpful, knowledgeable and responsive Sales Associates who have built our company into one of the largest independently-owned providers of real estate services in the country.
Ours is a great team, and we are proud to support it with the best training, the best resources and the best working environment in the industry. You see, there really is a Weichert difference... and it's what makes Weichert a truly special place to work.
Training and Development
Quick Weichert Fact: Our award winning training program is one of the best in the industry. We understand real-estate sales, and we know how to teach you the skills and techniques you will need.
Fast track, our program designed specifically for beginners, will get you started earning in no time.
Success track, for more experienced agents, will streamline your transition and introduce you to the tools that will increase your success.
We believe that no one ever stops learning. With hundreds of online courses available at any time, and the support of the entire Weichert family, you will be confident in your knowledge and prepared for success.
WEICHERT UNIVERSITY - THE BEST COURSE YOUR CAREER CAN TAKE!

From the moment you choose to join Weichert, Realtors, we're working to help you expand your business. Through WEICHERT UNIVERSITY you'll be able to upgrade your computer skills, master new tools, and refresh yourself with dialogue and tips on everything from building relationships to negotiating.
Resources

From sales and marketing tools, to online resources, to lead generation, we give our team members everything they need to succeed in this industry. Our collaborative team environment also means that everyone has access to the knowledge and expertise of the entire Weichert family.
What We Do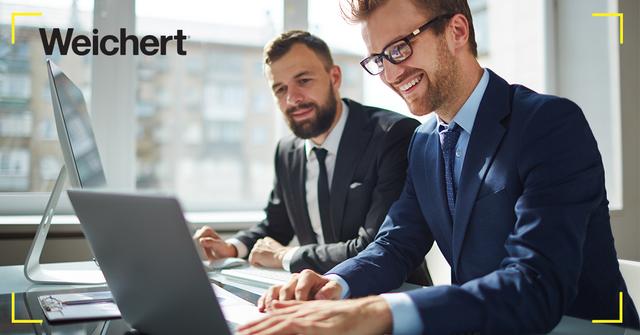 The Weichert Family of Companies covers much more than residential real estate sales; we are a one-stop shop for our customers. From our team at Weichert Financial Services that provides homebuyers with mortgages to the staff at our Call Centers who connect potential customers to our Sales Associates to our relocation counselors guiding moves for employers worldwide, we collaborate effectively to streamline the home buying and selling processes. Our businesses are designed to meet the needs of everyone from first-time home buyers to large corporations. We are able to provide a truly complete service, taking care of the people we serve and ensuring that whether they are buying or selling, they will have as smooth an experience as possible.
Since we opened our doors in 1969, we have focused on our customers. We know that giving our customers the best means giving our team everything they need. That's why we make sure every one of our employees has access to superior training and all the resources to do a great job. We are proud of the excellent service Weichert is able to offer and we know that it's because we have the best team in the industry.
Our People

I joined Weichert about fifteen years ago, attracted by the reputation for professionalism and outstanding sales training. I decided to align myself with the best real estate sales team in the country and I have never regretted my decision for a minute. The support I receive from the managerial staff is superb.
Jill Southren, Sales Associate
What makes Weichert great is that it truly is a company of unlimited opportunity. You can find your niche, and then benefit from support systems to achieve success in any role. Personally, I believe that my success has been greatly enhanced by our terrific one-stop business model, with each company and each person contributing to the success of the other.
I was previously in the Manager Apprentice Program, which provided me with a safe and stable transition into a management role. I found that pre-defined goals and processes ensure that I stay on track to enjoy a successful career.
Bill Peroncik, Sales Manager
I began my career with Weichert Financial Services in 2001 as an Insurance Sales Account Executive. In 2005, I decided to make a career change and become a Gold Service Manager. In both positions, I assisted our clients in order to help them realize the dream of home ownership. Generally, a person's decision in making a career change usually means moving on and working somewhere else. At Weichert, we are a family and our Family of Companies offer many career paths from which to choose.
Patrick Koelsch, Area Sales Manager
MORE HIGH QUALITY LEADS THAN ANY OTHER REAL ESTATE COMPANY IN THE NATION!
Weichert.com is among the top 1% of all real estate broker websites. No wonder it generates more leads per associate than any other real estate company. Of course it doesn't hurt that our strategy includes the award winning Weichert Lead Network, a contact center based process with a unique ability to convert on-line house hunters into actual buyers by immediately connecting them to a local Weichert sales associate like you!
Weichert.com
+ Top 5 for Broker Sites

+ Top 25 for Real Estate Sites

+ Average of 103,500+ visits per day

+ 3.1 Million Visits per month

+ More customers visit

Weichert.com

monthly than Century21.com, Coldwellbanker.com or

KW.com
Weichert Relocation
Weichert Relocation Resources, handles the relocation of many Fortune 500 Companies

For over four decades, Weichert Relocation Services Inc. has been one of the world's leading full-service relocation companies
Leads, Leads, Leads
Floortime Leads

Weichert.com: the most advanced internet lead system in the industry

Relocation Leads: Weichert Worldwide Relocation Network. We are one of the largest relocation companies in the nation.

We have specialized training so you can create a new source of income by helping high end executives relocate

Over 400 Corporate clients

25,000 corporate moves annually

Become part of an elite group of Realtors tapping into the rapidly growing market of internet customers

Constant flow of high quality leads from Weichert.com and WeichertPremierProperties.com

Referrals from other Weichert offices

Referrals from Weichert Referral Associates - 20,000 licensed members

Lead Technology

The Weichert Lead Network sends leads directly to Weichert agents from consumers who call into the Weichert call center. The network allows agents to be called within minutes of the call center receiving an inquiry from anyplace in the country. What the Weichert Lead Network does in 3-10 minutes, the rest of the real estate industry does in 54 hours!
Weichert...
- A Proven History Of SUCCESSFUL AGENTS 
- A Positive Environment  WHERE YOU CAN THRIVE
- The LEADS You Want, The TECHNOLOGY You Need
- The Right Selling Systems, TOOLS & TECHNIQUES
- Everything You Need To Be MORE PRODUCTIVE

 For a confidential interview, contact Anthony Russo at:
888.583.4441
premierpropertiesflorida@gmail.com
Weichert, REALTORS | Premier Properties

Boca Raton | Delray Beach | Naples
---